Welcome!
You've found the website of the most fun group of rail enthusiasts you'll ever meet! We have monthly get-togethers with presentations on interesting railway topics, plus picnics, excursions, gatherings at active railway sites, an informative monthly newsletter, and our own rolling stock! Click on the links on the left to find out more!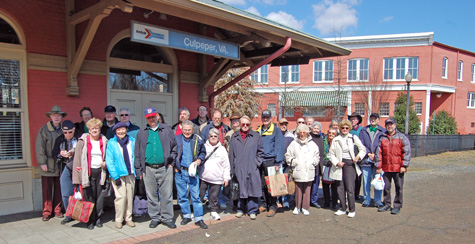 Chessie members and friends pose for a picture at the Culpeper, Virginia, depot shortly after stepping off Amtrak's outbound Cardinal from Washington, DC, on March 16, 2008, during the CRA's annual observance of Saint Patrick's Day. After enjoying lunch, dessert and coffee at several establishments in town, the group caught the inbound Cardinal back to Washington that evening. Ray Saunders photo.
ANNOUNCEMENT: The CRA regrets to announce that long-time member and CRA director Elmer Sichert passed away on February 8, 2014. With his jovial demeanor and an ever-present smile, Elmer was a dear friend to all and will be greatly missed. Mark Piotrowski snapped this picture of Elmer aboard our ex-Wabash 2827 caboose on September 16, 2007 during the Joint Annual CRA/WS Picnic in Walkersville, MD, as Elmer was taking a ride down the tracks.
Our March 16, 2014 Saint Patrick's Day Caboose Hop over both the northern and southern divisions of the Walkersville Southern Railroad was filmed by Big Jim Video Productions. The trip included multiple photo stops and photo runbys, and when it was over we visited Eunice's Restaurant at the corner of Route 15 North and Biggs Ford Road for lunch, followed by a dessert consisting of a cake with an image of our ex-Wabash 2827 caboose.
NEXT MEETING: Wednesday, December 3 at 8 p.m. in Room 213, Building SB (Welcome Center), at Montgomery College in Rockville, MD, when John Meise will provide a presentation on local area railroads in the 1970s.
FOLLOWING MEETING: Wednesday, January 7 at 8 p.m. in Room 213, Building SB (Welcome Center), at Montgomery College in Rockville, MD, featuring Alex Mayes' 2014 Year in Review, Part 1.