Welcome!
You've found the website of the most fun group of rail enthusiasts you'll ever meet! We have monthly get-togethers with presentations on interesting railway topics, plus picnics, excursions, gatherings at active railway sites, an informative monthly newsletter, and our own rolling stock! Click on the links on the left to find out more!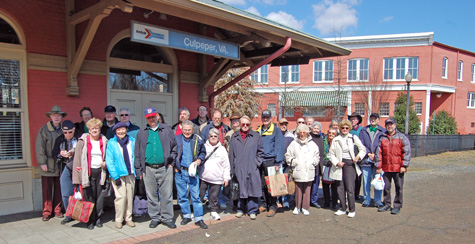 Chessie members and friends pose for a picture at the Culpeper, Virginia, depot shortly after stepping off Amtrak's outbound Cardinal from Washington, DC, on March 16, 2008, during the CRA's annual observance of Saint Patrick's Day. After enjoying lunch, dessert and coffee at several establishments in town, the group caught the inbound Cardinal back to Washington that evening. Ray Saunders photo.
NEXT MEETING: Wednesday, December 7 at 8 p.m. at Montgomery College in Rockville, MD, in Building CC, Room 212, featuring Alex Mayes' Year in Review, Part 1. Alex's digital presentation will cover several major rail events he attended plus other railfanning exploits during the first half of 2016. The program begins with a trip to the Northeast Corridor following winter storm Jonas which swept through the mid-Atlantic region in January, and then the opening day of the new D.C. Streetcar System in February. April includes the "Farewell to the 734" excursion on the Western Maryland Scenic Railroad and the beginning of the series of ex-Norfolk & Western Class J No. 611 trips in Virginia and North Carolina. The next segment covers the annual convention of the Southern Railway Historical Association in North Carolina, and the final public excursions pulled by N&W 611 between Manassas and Front Royal in June. The program concludes with a ten-day trip to Arizona which includes chasing the Grand Canyon Railway's train between Williams and the south rim of the canyon, visits to Union Pacific's ex-Southern Pacific Sunset Line and BNSF in Northern Arizona, and a visit to the Copper Basin Railway.
FOLLOWING MEETING: Wednesday, January 4 at 8 p.m. at the Kensington Park Community Library, 4201 Knowles Avenue, Kensington, MD, topic TBA.