Welcome!
You've found the website of the most fun group of rail enthusiasts you'll ever meet! We have monthly get-togethers with presentations on interesting railway topics, plus picnics, excursions, gatherings at active railway sites, an informative monthly newsletter, and our own rolling stock! Click on the links on the left to find out more!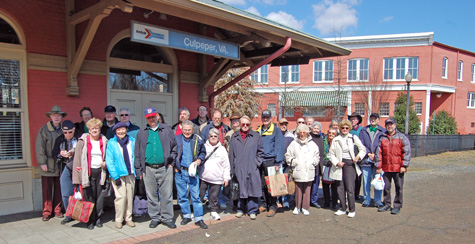 Chessie members and friends pose for a picture at the Culpeper, Virginia, depot shortly after stepping off Amtrak's outbound Cardinal from Washington, DC, on March 16, 2008, during the CRA's annual observance of Saint Patrick's Day. After enjoying lunch, dessert and coffee at several establishments in town, the group caught the inbound Cardinal back to Washington that evening. Ray Saunders photo.
NEXT MEETING: Wednesday, April 1 at 8 p.m. in Room 213, Building SB (Welcome Center), at Montgomery College in Rockville, MD, featuring Earl Long's presentation: Magnitude 8.0: Articulated Steam Locomotive Action Spectacular. This fully scripted and narrated computer-generated photo documentary focuses on vintage action photographs of monster steam locomotives known as articulateds. Early articulated locomotives were designed for maximum hauling power and not speed. These huge engines were powered by multiple sets of driving wheels which were hinged together under a single boiler. The hinge connection between sets of driving wheels enabled these massive locomotives to negotiate sharp curves in mountain districts and throughout the U.S. where raw power was needed to handle traffic demands.
FOLLOWING MEETING: Wednesday, May 6 at 8 p.m. at the former B&O station in Silver Spring, MD, when Bill Hopkins will do a presentation, topic TBA.