Welcome!
You've found the website of the most fun group of rail enthusiasts you'll ever meet! We have monthly get-togethers with presentations on interesting railway topics, plus picnics, excursions, gatherings at active railway sites, an informative monthly newsletter, and our own rolling stock! Click on the links on the left to find out more!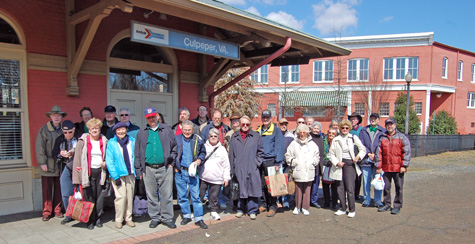 Chessie members and friends pose for a picture at the Culpeper, Virginia, depot shortly after stepping off Amtrak's outbound Cardinal from Washington, DC, on March 16, 2008, during the CRA's annual observance of Saint Patrick's Day. After enjoying lunch, dessert and coffee at several establishments in town, the group caught the inbound Cardinal back to Washington that evening. Ray Saunders photo.
NEXT MEETING: Wednesday, June 5 at 8 p.m. at the B&O Silver Spring Station. John Sery will present a program of short railroad films and videos including the Alco PAs, the Railway Post Office and the New York City 3rd Avenue Elevated in the 1940s.
FOLLOWING MEETING: Thursday, July 11 at 8 p.m. at the Bauer Drive Community Center in Rockville, MD. Mike O'Connor will present a program, topic TBA.
GRANT AWARDED: In June 2012 the National Railway Historical Society provided the CRA with a $1500 grant to help fund the removal of asbestos from pipes beneath our 1930s Pullman parlor car, the Meadow Lark. This work was completed by a contractor in January 2013.