Welcome!
You've found the website of the most fun group of rail enthusiasts you'll ever meet! We have monthly get-togethers with presentations on interesting railway topics, plus picnics, excursions, gatherings at active railway sites, an informative monthly newsletter, and our own rolling stock! Click on the links on the left to find out more!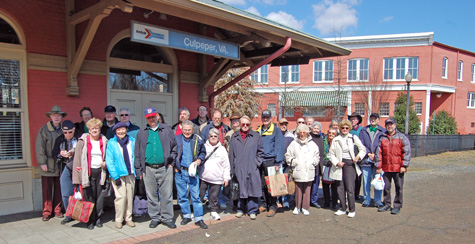 Chessie members and friends pose for a picture at the Culpeper, Virginia, depot shortly after stepping off Amtrak's outbound Cardinal from Washington, DC, on March 16, 2008, during the CRA's annual observance of Saint Patrick's Day. After enjoying lunch, dessert and coffee at several establishments in town, the group caught the inbound Cardinal back to Washington that evening. Ray Saunders photo.
NEXT MEETING: Saturday, September 3 at 12:30 p.m. when we hold our Joint Annual CRA/WS Picnic in the Walkersville Community Park next to the tracks of the Walkersville Southern Railroad. As always, the event will feature burgers, hot dogs, chips, soft drinks, etc., and the opportunity to ride on the WSRR. There is no charge, although donations of food, drink and cash are welcome. Join your friends for a day at the railroad!
FOLLOWING MEETING: Wednesday, October 5 at 8 p.m. Montgomery College in Rockville, MD. Building, room number, and the evening's presentation are TBA.